2016 © The MGF Register.
A Register of the MG Car Club

The MGF Register of the MG Car Club



MGF Register Registration form — Frequently Asked Questions
What is done with the information that I submit?
All information that we collect is treated confidentially and is not passed on to any third parties. The information is used by the Register to build a clear picture of what cars our members own, where in the country they are and to provide a history trace for cars that pass through the register. The MGF register is a part of the MG Car Club, and is covered in the club under the data protection act.
Do I need to be a member of the MG Car Club to join the register?
Yes you do. However, on events we operate an 'open door' policy whereby any MGF/TF owner is welcome to participate (perhaps you'll join us!) — but do bear in mind that we have to consider our members first, so where places are limited, you can guess who will get first consideration!
I don't want to register on-line — is there another way?
Yes there is. On the form page, there is a download link to get the postal form. It is a 'PDF' file, so you'll need a version of Acrobat reader to open it. You can download Acrobat reader here.
I don't know my VIN or engine number?
We'd like to collect this information so we can trace cars' histories where possible. The car's VIN (Vehicle Identification Number) can be seen through the windscreen on the left side of the car — whilst the engine number is most readily found on the V5 document (as can the VIN).
What is a VIN?
The VIN is your car's unique Vehicle Identification Number. It allows you to trace your car's history (such as accident damage through an authority like the HPI) and also is useful should you wish to find out when exactly the car was built and left the factory. In the future, the register would like to offer it's members the facility to compare their car's VIN with others' — useful to solve those old "mine's older than yours'" arguments!
What do all the letters on the VIN mean?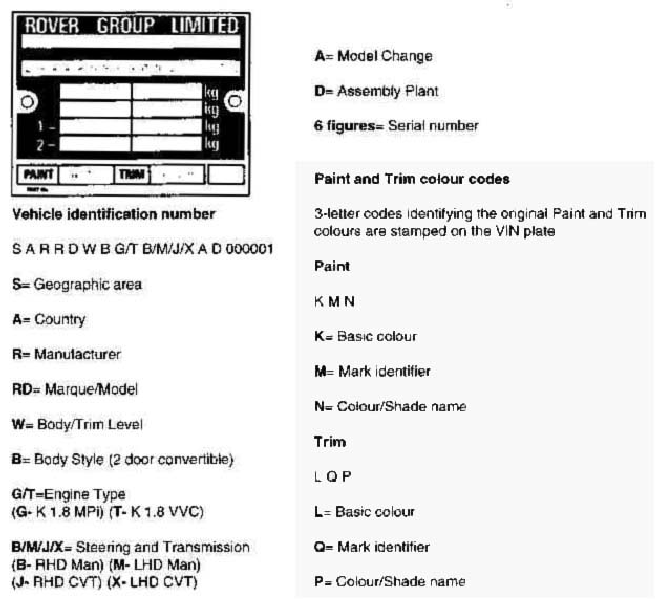 I don't know the name of the colour on my car?
This is pretty easy to find out - there is a chassis plate under the front bonnet to the left of the spare wheel well. There is a representation of this plate on the figure above (VIN information). On it there should be a colour code. Note that all the colour codes have three letters. The first letter is the basic colour - C is red, E orange, F yellow, G gold, H green, J blue, L grey, M silver, N white and P is black. The second letter is the mark identifier, and the final letter is the shade or colour name code.
A break down of paint codes can be found Here and Trim Codes can be found Here
For Body build number - left side of boot as per photo's