2016 © The MGF Register.
A Register of the MG Car Club

The MGF Register of the MG Car Club


Words and Pictures: Rob Bell
Reproduced with permission from mgf.ultimatemg.com

The first all new MG for 32 years, the MGF was launched to critical acclaim at the 1995 Geneva Motorshow. Initial attention naturally focused upon the mouth-watering technical specifications of this landmark car for MG: the Hydragas suspension, exotic electric assisted power steering, mid-engine configuration and the award winning K-series engine that had been extended to 1.8 litres for this application (in which the VVC version had also acquired an ingenious variable valve timing mechanism). The styling of the car was judged a successful blend of old and new- with design cues harking back to the last of the MGBs, but with a stance that was uncompromisingly modern and forward looking.
As we look back now, we see what a superb piece of design the MGF represents: the essential design eliminates have endured with new minor interior changes for six years- before the vehicle's first comprehensive face lift in 2002. However, whilst the car has been left essentially cosmetically unchanged over this first six-year period, there have been a number of special editions, new models and detail alterations- and these are summarised below:

The Original MGF: 1.8i and VVC (1995-1999). Launched in 1995 as two models- the 1.8i and VVC, which possessed power outputs of 118 bhp and 143 bhp respectively. Standard equipment levels were good for the class of car: remote central & dead locking; passive arming immobiliser and remote activated perimetric and volumetric alarm (earning, in 1997, Thatcham Category 2 security status); electric windows and heated door mirrors. The VVC added further to this standard spec to include electrically assisted power steering (EPAS- which was to become standard on the 1.8i in 1998), ABS and half leather interior trim.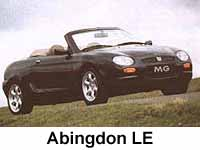 Legend has it this car is based upon the tweaks developed by Gerry McGovern for his own Tahiti blue car...
The Abingdon LE (spring, 1998) was the first MGF special, limited-run edition, based upon both the 1.8i and VVC. The car's more luxurious specification included full ('Walnut' beige) leather upholstery, beige soft top and unique paint colour, Brooklands Green (a kind of dark, non-metallic British Racing Green). Other cosmetic extras include an interior and exterior chrome pack- chrome ashtray and lighter, chrome exterior door handles and stainless steel grilles. Also standard, and first seen on this car, were the 6 spoke 'Abingdon style' 16" wheels, fitted with Goodyear F1 (215/40 R16) tyres. The 16" wheels were soon to be found on the options list for all MGFs and have proven an extremely popular design!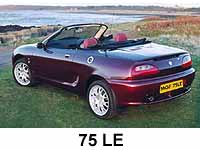 The 75 LE (March, 1999) was launched as a celebration model to commemorate the 75th anniversary of the MG car company (1924-1999). The specification of this model mirrored in many ways the earlier Abingdon LE with unique colours (Mulberry red and solid black) with leather and the fabric hood in a contrasting colour (black on red cars, red on black cars). Chrome interior and exterior highlights were as per Abingdon LE. Interestingly silver was a colour option offered in some markets (but not the UK). The 75 LE came with Multispoke design 16" wheels, and with either 1.8i or VVC engine options.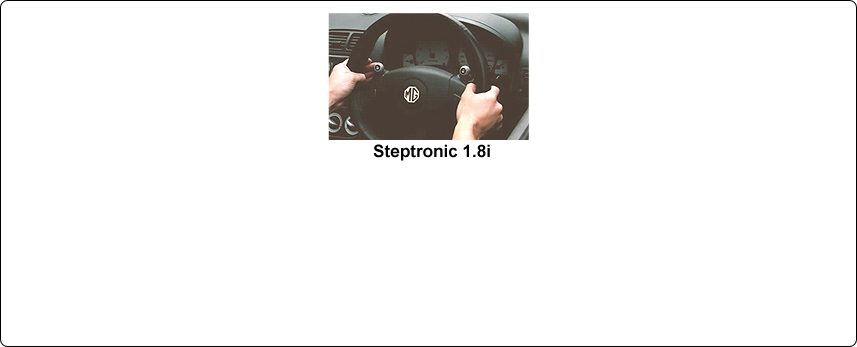 MGF Steptronic (2000-2002). Introduced a little after the MY2000 models, the Steptronic cars received a technically advanced continuously variable automatic transmission (CVT). This autobox includes a 'F1 paddle-shift' gear selection mode, that makes the gearbox operate as a six-speed sequential gear box. The gears can be selected either by the gear lever (push or pull) or the selector buttons on the steering wheel (pictured opposite). Unfortunately, this gearbox is only available with the 1.8i engine, as the gearbox has an input speed limit that is inadequate for the engine speeds that the VVC engine is capable of.
Performance figures are broadly lower than the standard manual 1.8i (although it is argued that this car is at least as fast in the real world), whilst trim specs are close to VVC levels.

The Wedgwood SE (July, 2000) is the first limited edition based upon the MY2000 MGF. Following the successful formula struck by earlier limited editions, the car comes in a unique-for-MG colour, Wedgwood blue, and its improved standard specification includes leather seats, CD player, chrome interior and exterior accessories and 16" Multispoke wheels. This particular SE also possesses a rear deck spoiler- the first MGF to come so-equipped with it as standard.
The Trophy 160 (May, 2001)- so named because the re-tuning of the engine resulted in its VVC engine producing 160 PS (158 bhp). Possibly the most exciting and most comprehensively re-worked MGF special edition so far. The mouth watering spec includes lowered and stiffer suspension, AP racing 'MG' branded red coloured 4 pot brake callipers acting on significantly larger front brake discs, a new aerodynamic package consisting of front splitter and rear deck spoiler and that aforementioned engine.
Other features include bold new colours- Trophy Yellow and Trophy Blue, a new style of 16" wheels and re-styled front head lamps. The interior has body coloured centre console and door trim inserts, plus coloured high-lights on the seats. Sure to be a classic.

The MGF 1.6i (May, 2001) was launched somewhat quietly at the same time as its bigger, louder brother, the Trophy 160. Designed to compete at the other, cheaper end of the roadster market, the 1.6i competes head on with the similarly sized Mazda MX-5 (Miata). Compared to the 1.8i, the car is de-spec'ed: no central locking, no volumetric alarm, no radio, no power adjustable mirrors, no fancy trim inlays for the doors. The car is meant to be cheap fun. Despite the capacity deficit, the 1.6 K-series is a ballsy rev- happy engine. Such is its effervescent character, one doesn't notice the performance deficit! In other words it succeeds in its aim- it's fun!

The MGF Freestyle (Autumn, 2001) was the last swan-song of the 'original' MGF before its radically face lifted replacement arrived in February 2002. Equipped with the cosmetic up grades already found on the MGF Trophy 160, the Freestyle thus came fitted with a Trophy-style front bib splitter and rear deck spoiler. The car also rides on 16" wheels, although this time using the familiar 'Multispoke' wheels featured on previous special edition MGFs. The Freestyle does without tuning upgrades found on the Trophy 160 or that car's superlative breaks, and as such is essentially based upon the standard model 1.8i and VVC.

And now, the MG TF! (February, 2002 - April, 2005) This car represents a dramatic stylistic departure for the MGF and includes a huge number of engineering changes. These include a new suspension system (the car is now sprung by coil-over damper units with a brand new multi-link rear) extensive body strengthening, and a new faster 2.8 turn lock to lock steering rack to name but three. The interior style is practically identical to the earlier MY2000 model, but now offers more colour choice and material options. In many ways, the new TF deserves a new name, although the 'T' prefix has caused some raised eyebrows in MG enthusiast circles.

Sprint SE (July, 2002), based upon the TF 135 and 160 variants. The sprint SE had a high specification trim from the outset, consisting of Gunsmoke Alcantara and black leather seats, Smokestone fascia and door panels, a coloured hood, chrome pack and front fog lights. On TF 135 models, Sports Pack 2 (ABS, uprated 304mm front disc brakes and callipers and 16" eleven-spoke alloy wheels – already standard on the TF 160) was specified as standard equipment. Only 600 MG TF Sprint models were said to have been produced in the five colour available combinations: Solar Red, XPower Grey, Starlight Silver, Le Mans Green and Trophy Blue.

Cool Blue SE (March, 2003), based upon the TF 115 and 135 variants. The Cool Blue SE is distinguished by its distinctive blue hood and unique Alcantara blue seats. All models feature a Momo leather/alloy gear knob, leather steering wheel, wind stop and ash grey fascia. The 'Cool Blue' SE features those staple [and very attractive] six-spoke "Abingdon" 16" alloy wheels, found on so many previous MGF special editions, along with standard fit chrome grille pack and front fog lamps. This SE is available in a choice of three exterior colours: Trophy Blue pearlescent, Starlight Silver or Anthracite metallic.

SunStorm LE (October, 2003), based upon the TF 115, 135 and 160 variants. Limited production run of 500. Offered in three body colour options - Raven Black, Nightfire Red and Starlight Silver. The standard-fit body-coloured hardtop is complemented by a Smokestone coloured interior and Gunsmoke Alcantara/ black leather seats, leather steering wheel, 'Momo' leather and alloy gear knob and a single slot CD tuner. The specification includes a black hood, bright pack, 16" 11-spoke alloy wheels and MG/AP Racing disc brakes as part of standard specification sportspack 2, front fog lamps and body coloured electric door mirrors. The Sunstorm SE is available with a choice of engines with three power outputs 115, 135 or 160Ps

80th Anniversary LE (January, 2004), was launched in celebration of the MG marque's 80th anniversary. There were three exterior colour options: Pearl Black, Starlight Silver and Goodwood Green. All engine and transmission options were available. Interestingly, the silver and black anniversary models were trimmed differently from the green cars, with burgundy red hood, ash grey interior with grenadine Alcantara and black leather seats and bright-finish console, door casings, gear knob and handbrake grip. In contrast, the Goodwood Green Anniversary TF is more traditional in style, combining tan hood with matching tan interior and black Alcantara and tan leather seats. Wood effect inserts are fitted to the console, doors, gear knob and leather steering wheel. All models feature a folding windstop and CD tuner. 16" 11-spoke alloy 'shadow chrome finish' wheels are fitted, along with front fog lamps and bright door handles. Anniversary '1924 MG 2004' logos are found on the boot lid and embroidered on the seats, which distinguishes the 80th Anniversary LE from other LE models.

Spark SE (July, 2004), based upon the 115, 135 and 160 variants; 1000 produced for the UK market. The Spark SE falls into the now familiar TF SE pattern of offering the SP2 chassis option as standard on all models (AP brakes, 11-spoke shadow-chrome 16" wheels), along with Gunsmoke and Black Alcantara MG-logo embroidered seats in an Ash Grey interior and a Charcoal Grey hood. Uniquely, this SE offered an extensive 'alloy' effect interior trim finish on the door inserts and steering wheel, along with the usual 'Bright Pack' items: chrome ashtray and handbrake button, Momo leather/alloy gear knob, bright side and front grilles and chrome exterior door handles. Additional spec items include a windstop, front fog lights and a Sony CDX-2000 CD player. The Spark SE premiered Firefrost Red as a body colour and featured a unique Sonic Blue (pictured right) along with old exterior colour stalwarts, Xpower Grey and Starlight Silver.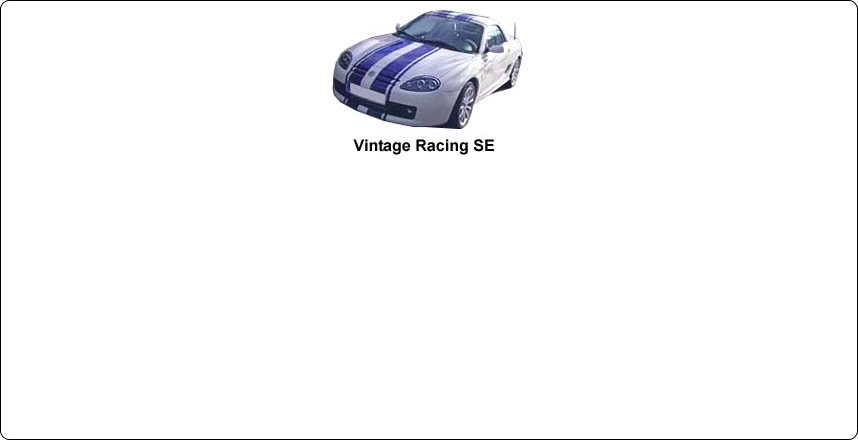 Vintage Racing SE (October, 2004 - France only), was launched at the October Paris motor show, 2004. Based on the TF160, this car was painted in a unique colour scheme of Dover White with French racing blue 'Cobra' style stripes - this special edition is perhaps the most visually arresting of all the TF special editions released.
Clearly designed to evoke the spirit of 1960s motor racing, the car also came fitted with X-Power roll-hoops (the slanting variety), along with 'Vintage Racing' decals below the air intakes and on a numbered plaque below the seats. The specification also included all the usual SE refinements of chrome pack, shadow-chrome 11-spoke alloys and a decent MP3/radio head unit. The seats were black leather, incorporating blue Alcantara inserts, while the centre console was painted in contrasting silver (which was matched to the steering wheel and the door trim inserts). This is a very desirable car - what a shame that an equivalent special edition was not launched in the UK!


The numbered 'Vintage Racing' plaque mounted between the two seats. Vintage Racing' script also echoed below the side air intakes on each side.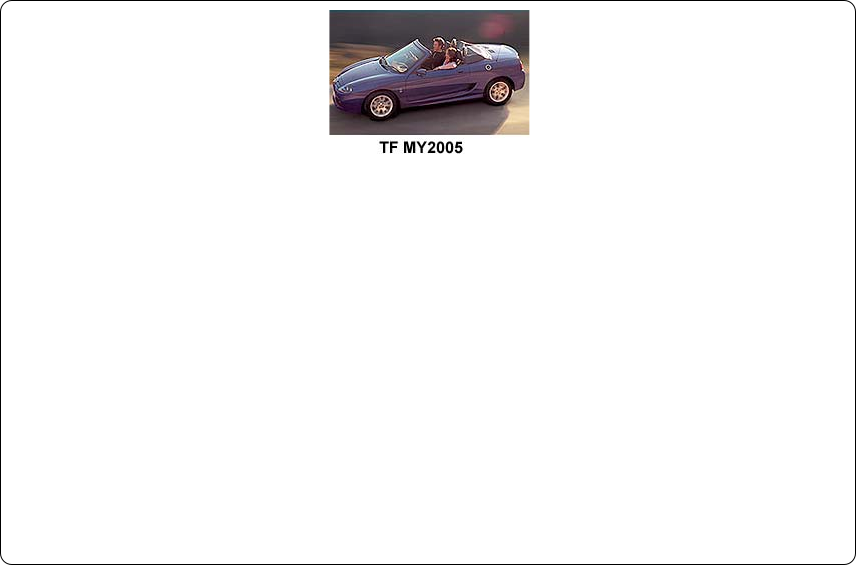 2005 Model Year Update (Feb, 2005-April, 2005). The MY2005 version of the TF has brought with it a range of modest, yet useful updates on the now classic theme. Those expecting a dramatic facelift in line with the concurrent MG saloon range were disappointed, but the upgrades mean a new hood design, incorporating:
a heated glass rear screen (a first on a soft top MG),
a new range of colours both outside and in,
a new badge denoting model specification (on the 160),
a new wheel design for the entry models (115 and 135) - an attractive "V"-spoke pattern and
a new range of in-car entertainment systems.
The suspension too was re-rated with the aim to answer criticisms of the earlier cars; smoothing the occasionally bumpy ride that owners with 16" wheel options occasionally complained of without compromising the handling sharpness.
One curiosity of the MY2005 specification sheet was the down-grading of the AP-racing calipers from 4 pots of the Trophy 160/ TF160 to 2 pots. However, I have not yet come across a single MY2005 with the 2-pot AP caliper; perhaps this is due to MG Rover having second thoughts for production - or perhaps the company was simply using up old stocks. If anyone knows the answer to this conundrum, please do let me know.
It is understood that 631* of this model were built prior to the collapse of MG Rover Group on April 7th, 2005 - the precise model composition is, at this time, unknown.
*The MGF register has since learnt that a significant number of 2005MY TFs were built during the PricewaterhouseCoopers administration period. At this time, it is not known how many additional cars were built - or what VINs this applies to...

Mk2 / MY2000 MGF (1999-2002). Autumn of 1999 saw the launch of the improved 'Model Year (MY) 2000' MGF models, that are also known amongst MG enthusiasts as the 'Mk2'. The cars incorporated a number of detail improvements aimed at eliminating some of the earlier car's weaknesses, including re-specified EPAS, double skinned petrol tank and detail changes to the cylinder head location and gasket design. Cosmetic and specification changes were few- what there were was aimed at improving the ambience of the cabin- with the only external changes being the painting of the windscreen surround in body colour where previously it was painted black, and the change of colour of the front indicator units from orange to smoked-clear lenses. Thus the cars received new seats designed to improve comfort and lateral support; the door trims now included an alloy insert (or wood as an option), the centre console was redesigned with an alloy theme incorporated (such as the gear lever surround) and improved switch gear. The heater controls were now silver painted. Controversially, the instrument dials lost their 'MG' logos, and the cream faces changed for silver items with a new italic type face. Compensation arrived in the form of an improved six-speaker stereo, with a pair of speakers behind the occupants' heads.
VVC models retained their improved specification over 1.8i models. Where the 1.8i received new 8-spoke 'Minilite-style' wheels, the VVC received a new 16" 6-square spoke design. The interior is half leather, and the VVC, unlike the MPi, has ABS fitted as standard.