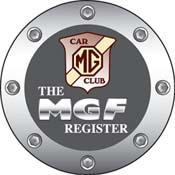 The MGF Register
a Register of the MG Car Club
It is important that as a Car Club we have up to date records of which MGs our members own.
This enables the Register to maintain useful historical records of each car and makes tracing the history and previous ownership much easier.
Please complete the details below, providing as many details as possible. In return you will be sent a small welcome pack from the Membership Secretary.
Even if you have previously registered with us, we would urge you to register yourself - and your car - so you can take advantage of our improved membership service.
You can register in one of two ways - either by completing the web form below, or by post. You can download the postal form here
By the way, you DO have to be a member of the MG Car Club to become a member of the MGF Register.
If you're not already a member of the MGCC and you want to join, then you can join on line from the MGCC Website